Product Summary
The MAX337EAI is a monolithic, CMOS analog multiplexer (mux). The dual, 8-channel MAX337EAI is designed to connect one of eight inputs to a common output by control of a 3-bit binary address. On-resistance is 400 1/2(max), and the devices conduct current equally well in both directions. The MAX336/MAX337EAI operates from a single +4.5V to +30V supply or from dual ±4.5V to ±20V supplies. All control inputs (whether address or enable) are TTL compatible (0.8V to 2.4V) over the full specified temperature range and over the ±4.5V to ±18V supply range.
Parametrics
MAX337EAI absolute maixmum ratings: (1)(1)Voltage Referenced to V- V+: -0.3V, 44V; GND: -0.3V, 25V; (2)Digital Inputs, A_, EN_, NO, COM: (V- -0.3V) to (V+ +0.3V) or 30mA (whichever occurs first); (3)Continuous Current (any terminal): 30mA; (4)Peak Current, NO or COM(pulsed at 1ms, 10% duty cycle max): 100mA; (5)Continuous Power Dissipation (TA = +70℃), Plastic DIP (derate 14.29mW/℃ above +70℃): 1.14W; (6)Wide SO (derate 12.50mW/℃ above +70℃): 1.00W; (7)SSOP (derate 9.52mW/℃ above +70℃): 762mW; (8)CERDIP (derate 16.67mW/℃ above +70℃): 1.33W; (9)Operating Temperature Ranges: -40℃ to +85℃; (10)Storage Temperature Range: -65℃ to +150℃; (11)Lead Temperature (soldering, 10sec): +300℃.
Features
MAX337EAI features: (1)(1)<400Ω (max) On-Resistance; (2)<500ns Transition Time; (3)<10Ω On-Resistance Match; (4)<20pA NO-Off Leakage Current at +25℃; (5)3.5pC Charge Injection; (6)+4.5V to +30V Single Supply; (7)±4.5V to ±20V Dual Supplies; (8)Plug-In Upgrade for Industry-Standard DG506/DG507; (9)Bidirectional Rail-to-RailSignal Handling; (10)TTL/CMOS-Logic Compatible; (11)>2000V ESD Protection, per Method 3015.7.
Diagrams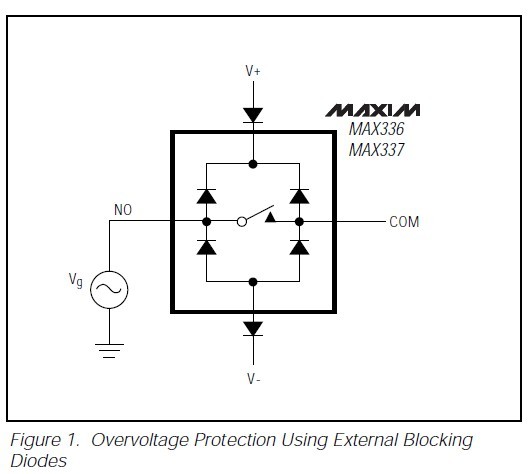 Image
Part No
Mfg
Description
Pricing
(USD)
Quantity

MAX337EAI+

Maxim Integrated Products

Multiplexer Switch ICs 8:1 2Ch Low Leakage CMOS MUX

Data Sheet



| | |
| --- | --- |
| 0-1: | $9.44 |
| 1-25: | $6.29 |
| 25-50: | $4.65 |
| 50-100: | $4.56 |


MAX337EAI-T

Maxim Integrated Products

Multiplexer Switch ICs

Data Sheet

Negotiable

MAX337EAI+T

Maxim Integrated Products

Multiplexer Switch ICs 8:1 2Ch Low Leakage CMOS MUX

Data Sheet



| | |
| --- | --- |
| 0-1665: | $3.83 |
| 1665-2000: | $3.83 |


MAX337EAI

Maxim Integrated Products

Multiplexer Switch ICs

Data Sheet

Negotiable