Product Summary
The HD60125 is a 25-125Amp 600 Vac AC Output.
Parametrics
HD60125 absolute maximum ratings: (1)Nominal Line Voltage (±10%) [Vrms]: 600; (2)Operating Voltage Range (47-63 Hz) [Vrms]: 48-660; (3)Max. Load Current [Arms]: 125; (4)Min. Load Current, [mArms]: 150; (5)Transient Overvoltage [Vpk]: 1200; (6)Max. Surge Current, (16.6ms) [Apk]: 1,750; (7)Max. On-State Voltage Drop @ Rated Current [Vpk]: 1.7; (8)Thermal Resistance Junction to Case (RθJC) [ C/W]: 0.22; (9)Maximum I2t for Fusing, (8.3 msec.) [A 2sec]: 12,700; (10)Max. Off-State Leakage Current @ Rated Voltage [mArms]: 5; (11)Min. Off-State dv/dt @ Max. Rated Voltage [V/μsec]: 500.
Features
HD60125 features: (1)Zero Voltage and Random Turn-On Switching ; (2)Panel Mount; (3)1200V Blocking Capability; (4)600Vac - the preferred choice in Canada; (5)Integrated Overvoltage Protection by Automatic Self Turn-On (Suffix P).
Diagrams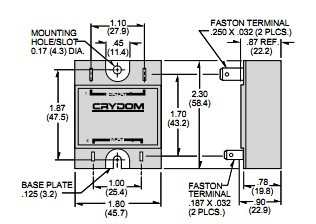 Image
Part No
Mfg
Description
Pricing
(USD)
Quantity

HD60125

Crydom

Solid State Relays PM IP00 SSR, 660VA C/125A, DC In, ZC

Data Sheet



| | |
| --- | --- |
| 0-1: | $64.67 |
| 1-10: | $61.63 |
| 10-25: | $60.21 |
| 25-50: | $58.79 |


HD60125-10

Crydom

Solid State Relays PM IP00 SSR, 660VA C/125A, DC In, RN

Data Sheet



| | |
| --- | --- |
| 0-6: | $88.54 |
| 6-10: | $81.41 |
| 10-25: | $77.77 |
| 25-50: | $73.39 |