Product Summary
The LTC3780EG is a high performance buck-boost switching regulator controller that operates from input voltages above, below or equal to the output voltage. The constant frequency current mode architecture allows a phaselockable frequency of up to 400kHz. With a wide 4V to 30V (36V maximum) input and output range and seamless transfers between operating modes, the LTC3780EG is ideal for automotive, telecom and battery-powered systems.
Parametrics
LTC3780EG absolute maximum ratings: (1)Input Supply Voltage (VIN): –0.3V to 36V; (2)Topside Driver Voltages: –0.3V to 42V; (3)Switch Voltage (SW1, SW2): –5V to 36V; (4)INTVCC, EXTVCC, RUN, SS, (BOOST – SW1), (BOOST2 – SW2), PGOOD: –0.3V to 7V; (5)PLLIN Voltage: –0.3V to 5.5V; (6)PLLFLTR Voltage: –0.3V to 2.7V; (7)FCB, STBYMD Voltages: –0.3V to INTVCC; (8)ITH, VOSENSE Voltages: –0.3V to 2.4V; (9)Peak Output Current <10ms (TG1, TG2, BG1, BG2): 3A; (10)INTVCC Peak Output Current: 40mA; (11)Operating Temperature Range: – 40℃ to 85℃; (12)Junction Temperature: 125℃; (13)Storage Temperature Range: –65℃ to 125℃; (14)Lead Temperature (Soldering, 10 sec), SSOP Only: 300℃.
Features
LTC3780EG features: (1)Single Inductor Architecture Allows VIN Above, Below or Equal to VOUT; (2)Wide VIN Range: 4V to 36V Operation; (3)Synchronous Rectification: Up to 98% Efficiency; (4)Current Mode Control; (5)±1% Output Voltage Accuracy: 0.8V < VOUT < 30V; (6)Phase-Lockable Fixed Frequency: 200kHz to 400kHz; (7)Power Good Output Voltage Monitor; (8)Internal LDO for MOSFET Supply; (9)Quad N-Channel MOSFET Synchronous Drive; (10)VOUT Disconnected from VIN During Shutdown; (11)Adjustable Soft-Start Current Ramping; (12)Foldback Output Current Limiting; (13)Selectable Low Current Modes; (14)Output Overvoltage Protection; (15)Available in 24-Lead SSOP and Exposed Pad (5mm × 5mm) 32-Lead QFN Packages.
Diagrams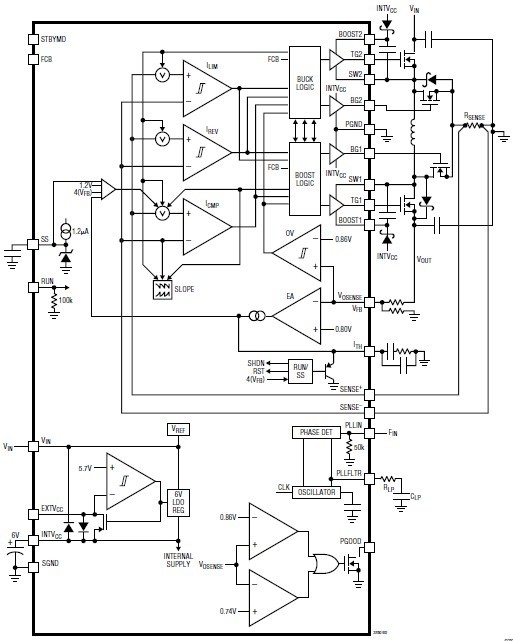 Image
Part No
Mfg
Description
Pricing
(USD)
Quantity

LTC3780EG#PBF



IC REG CTRLR BST PWM CM 24-SSOP

Data Sheet



| | |
| --- | --- |
| 0-1: | $5.73 |
| 1-25: | $3.98 |
| 25-100: | $3.28 |


LTC3780EG#TRPBF



IC REG CTRLR BST PWM CM 24-SSOP

Data Sheet