Product Summary
The AT89C55WD-24PU is a low-power, high-performance CMOS 8-bit microcontroller with 20K bytes of Flash programmable read only memory and 256 bytes of RAM. The AT89C55WD-24PU is manufactured using Atmel high-density nonvolatile memory technology and is compatible with the industry standard 80C51 and 80C52 instruction set and pinout. The on-chip Flash allows the program memory to be user programmed by a conventional nonvolatile memory programmer. By combining a versatile 8-bit CPU with Flash on a monolithic chip, the Atmel AT89C55WD-24PU is a powerful microcomputer which provides a highly flexible and cost effective solution to many embedded control applications.
Parametrics
AT89C55WD-24PU absolute maximum ratings: (1)Operating Temperature: -55℃ to +125℃; (2)Storage Temperature: -65℃ to +150℃; (3)Voltage on Any Pin with Respect to Ground: -1.0V to +7.0V; (4)Maximum Operating Voltage: 6.6V; (5)DC Output Current: 15.0 mA.
Features
AT89C55WD-24PU features: (1)Compatible with MCS -51 Products; (2)20K Bytes of Reprogrammable Flash Memory; (3)Endurance: 1000 Write/Erase Cycles; (4)4V to 5.5V Operating Range; (5)Fully Static Operation: 0 Hz to 33 MHz; (6)Three-level Program Memory Lock; (7)256 x 8-bit Internal RAM; (8)32 Programmable I/O Lines; (9)Three 16-bit Timer/Counters; (10)Eight Interrupt Sources; (11)Programmable Serial Channel; (12)Low-power Idle and Power-down Modes; (13)Interrupt Recovery from Power-down Mode; (14)Hardware Watchdog Timer; (15)Dual Data Pointer; (16)Power-off Flag; (17)Green (Pb/Halide-free) Packaging Option.
Diagrams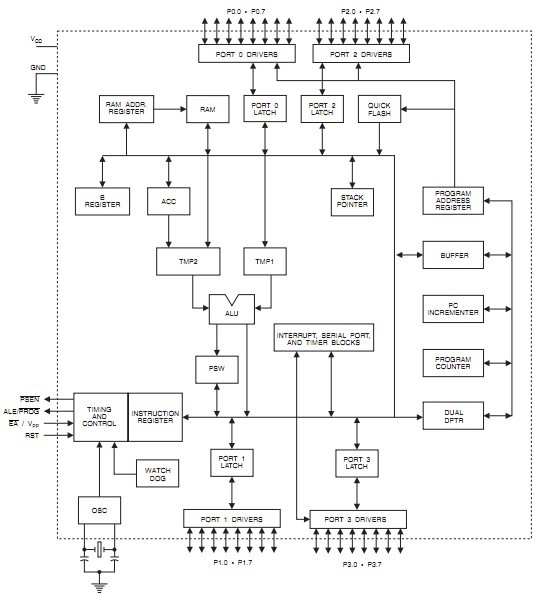 Image
Part No
Mfg
Description
Pricing
(USD)
Quantity

AT89C55WD-24PU

Atmel

8-bit Microcontrollers (MCU) 20K FLASH - 24MHZ IND TEMP 5V

Data Sheet



| | |
| --- | --- |
| 0-1: | $1.58 |
| 1-10: | $1.54 |
| 10-25: | $1.49 |
| 25-100: | $1.40 |

Image
Part No
Mfg
Description
Pricing
(USD)
Quantity

AT89C2051-24PU

Atmel

8-bit Microcontrollers (MCU) 2kB Flash 128B RAM 24MHz 2.7V-6.0V

Data Sheet



| | |
| --- | --- |
| 0-1: | $1.01 |
| 1-10: | $0.98 |
| 10-25: | $0.95 |
| 25-100: | $0.90 |


AT89C1051U-12SC

Atmel

8-bit Microcontrollers (MCU) 80C31 w/1k

Data Sheet

Negotiable

AT89C2051-12SI

Atmel

8-bit Microcontrollers (MCU) 20 PINS UART 2K - FLASH - 12MHZ

Data Sheet

Negotiable

AT89C2051-24SC

Atmel

8-bit Microcontrollers (MCU) 20 PINS UART 2K - FLASH - 24MHZ

Data Sheet

Negotiable

AT89C51-12JC

Atmel

8-bit Microcontrollers (MCU) 80C31 w/4k

Data Sheet

Negotiable

AT89C51-12AC

Atmel

8-bit Microcontrollers (MCU) Microcontroller

Data Sheet

Negotiable