Product Summary
The ADSP-21161NCCAZ100 SHARC DSP is featuring Analog Devices Super Harvard Architecture. Easing portability, the ADSP-21161NCCAZ100 is source code compatible with the ADSP-21160 and with first generation ADSP-2106x SHARCs in SISD (Single Instruction, Single Data) mode. Like other SHARC DSPs, the ADSP-21161NCCAZ100 is a 32-bit processor that is optimized for high performance DSP applications. The ADSP-21161NCCAZ100 includes a 100 MHz core, a dual-ported on-chip SRAM, an integrated I/O processor with multiprocessing support, and multiple internal buses to eliminate I/O bottlenecks.
Parametrics
ADSP-21161NCCAZ100 absolute maximum ratings: (1)Internal (Core) Supply Voltage (VDDINT): –0.3 V to +2.2 V; (2)Analog (PLL) Supply Voltage (AVDD): –0.3 V to +2.2 V; (3)External (I/O) Supply Voltage (VDDEXT): –0.3 V to +4.6 V; (4)Input Voltage: –0.5 V to VDDEXT + 0.5 V; (5)Output Voltage Swing: –0.5 V to VDDEXT + 0.5 V; (6)Load Capacitance: 200 pF; (7)Storage Temperature Range: –65℃ to +150℃.
Features
ADSP-21161NCCAZ100 features: (1)100 MHz (10 ns) Core Instruction Rate; (2)Single-Cycle Instruction Execution, Including SIMD Operations in Both Computational Units; (3)600 MFLOPs Peak and 400 MFLOPs Sustained Performance; (4)225-Ball 17 mm × 17 mm MBGA Package.
Diagrams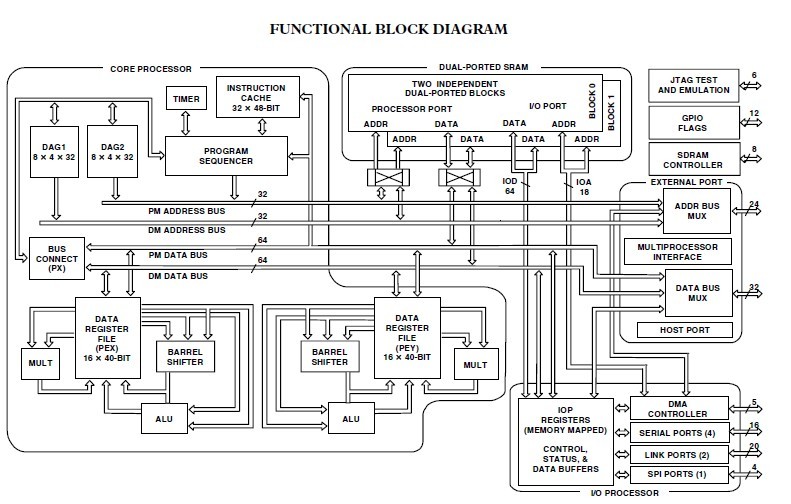 Image
Part No
Mfg
Description
Pricing
(USD)
Quantity

ADSP-21161NCCAZ100



IC DSP CONTROLLER 32BIT 225MBGA

Data Sheet


Image
Part No
Mfg
Description
Pricing
(USD)
Quantity

ADSP-2100

Other



Data Sheet

Negotiable

ADSP-2101BG-100



IC DSP CONTROLLER 16BIT 68PGA

Data Sheet



ADSP-2101BGZ-100

Analog Devices Inc

IC DSP 16BIT CTRL 25MHZ 68-PGA

Data Sheet

Negotiable

ADSP-2101BP-100



IC DSP CONTROLLER 16BIT 68PLCC

Data Sheet



ADSP-2101BPZ-100



IC DSP SLG 16BIT 25MHZ 68-PLCC

Data Sheet



| | |
| --- | --- |
| 0-1: | $31.64 |
| 1-10: | $29.78 |
| 10-100: | $26.62 |
| 100-250: | $25.13 |
| 250-500: | $24.82 |


ADSP-2101BS-100

Analog Devices Inc

IC DSP CONTROLLER 16BIT 80PQFP

Data Sheet

Negotiable