Product Summary
The AD6525AACA Synchronous Voltage-to-Frequency Converter (SVFC) is a powerful building block for precision analog-todigital conversion, offering typical nonlinearity of 0.002% (0.005% maximum) at a 100 kHz output frequency. The inherent monotonicity of the transfer function and wide range of clock frequencies allows the conversion time and resolution to be optimized for specific applications. The AD6525AACA uses a variation of the popular charge-balancing technique to perform the conversion function. The AD6525AACA uses an external clock to define the full-scale output frequency, rather than relying on the stability of an external capacitor. The result is a more stable, more linear transfer function, with significant application benefits in both single- and multichannel systems.
Parametrics
AD6525AACA absolute maximum ratings: (1)Total Supply Voltage: +VS to –VS: 36 V; (2)Maximum Input Voltage: 36 V; (3)Maximum Output Current (Open Collector Output): 50 mA; (4)Amplifier Short Circuit to Ground: Indefinite; (5)Storage Temperature Range: Cerdip: –65℃ to +150℃; (6)Storage Temperature Range: PLCC: –65℃ to +150℃.
Features
AD6525AACA features: (1)Full-Scale Frequency (Up to 2 MHz) Set by External System Clock; (2)Extremely Low Linearity Error (0.005% max at 1 MHzFS, 0.02% max at 2 MHz FS); (3)No Critical External Components Required; (4)Accurate 5 V Reference Voltage; (5)Low Drift (25 ppm/℃ max); (6)Dual or Single Supply Operation; (7)Voltage or Current Input; (8)MIL-STD-883 Compliant Versions Available.
Diagrams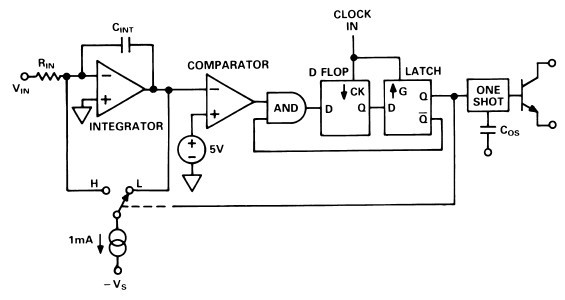 AD654JRZ-REEL7



IC V-F CONVERTER MONO 8-SOIC TR

Data Sheet



AD654JRZ-REEL



IC V-F CONVERTER MONO 8-SOIC TR

Data Sheet



AD654JRZ



IC V-F CONVERTER MONO 8-SOIC

Data Sheet



| | |
| --- | --- |
| 0-1: | $5.08 |
| 1-10: | $4.57 |
| 10-100: | $3.76 |
| 100-250: | $3.45 |
| 250-500: | $3.15 |
| 500-1000: | $2.74 |
| 1000-2500: | $2.71 |


AD654JR-REEL7



IC V-F CONVERTER MONO 8-SOIC

Data Sheet



AD654JN/+

Analog Devices Inc

IC V-F CONV MONO 500KHZ 8-DIP

Data Sheet



AD654

Other



Data Sheet

Negotiable